Released: Apr 27, 2012 Price:US$1.99 Category: Photo & Video



Put your face in a hole and say cheese!
This camera app allows you to take pictures of yourself with your face in the face-in-hole cutout frame.
You can create your own frame. In fact, it's all about creating your own personal frame.
(The app contains one sample frame only.)
Tap and drag as if you scribble on your picture. You can make a hole where you touch (the selected area will become transparent).
Tap "Next" in the lower right corner of the screen to take a picture.
The frame you made will overlap with the camera screen. Place your face in the cutout, then press the shutter button. (Of course you can insert not only your face but also other objects.)
After taking a picture, you can zoom it in/out, rotate it or move it.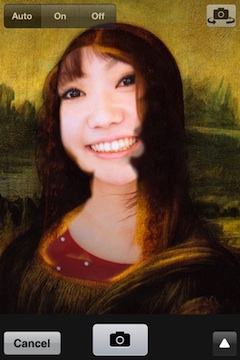 Now you complete the set-in.
Scribble on your picture.
- 3 types of brushes
- 4 line sizes
- Full-color (16770000 colors)
- Zoom in/out by pinching with two fingers
- Drag with two fingers (when the picture is zoomed-in) to move the image
- Undo/Redo
You can share your pictures by using the following services:
- Facebook
- Twitter
- E-Mail
You can also save them to the Camera Roll.
When you return to the title screen by tapping the exit button, the created image will be automatically saved in the Gallery.
The app features only one sample frame. You can make a cutout wherever you want on a picture so there are unlimited possibilities to create interesting pictures.